THE CATHOLIC CHURCH IN LIVINGSTON
CATHOLICS IN LIVINGSTON FORM A COMMUNITY
In 1865 John Hoch settled in Livingston, New Jersey, the first Catholic to make his home here. As a few more Catholics were drawn to the area, they realized they had to have a place of worship. The nearest church they could attend was St. Aloysius Roman Catholic Church in Caldwell and they traveled there for many years to attend Mass.
We read with deep awe and reverence of the hardships and privations suffered by the early pioneers of this country to carve themselves a home in an alien land against almost insurmountable odds. The same pioneer spirit still glowed strong in the hearts of early Livingston Catholics, for that Sunday trip to Caldwell involved great discomfort and hardship. This was long before the era of the automobile and Catholic families faced a long, tiring ride by horse-drawn wagon or sleigh over rough country roads to attend Sunday Mass in Caldwell. They also endured the problem of delayed baptism of infants and sudden sickness and death without the comfort of a parish priest. In spite of these odds, the growth of the Catholic faith made such great strides in Caldwell that two sub­parishes were organized - one in Verona and one in Livingston. In Verona the eventual location of their church dictated the name of "Our Lady of the Lake." The first Mass in Livingston was held about the year 1891. With no church of their own and no means to provide one, Masses here were celebrated once a month in what was then known as O'Reilly's Homestead. This homestead has a fascinating history of its own. Built in 1748 or 1749 by Thomas Force, a cobbler, and enlarged by several subsequent owners, it remains one of the oldest homes in Livingston. In 1891 or 1892 the house was the property of noted horse-breeder Frank O'Reilly, who had established his Oakwood Stock Farm on the property. The March 1964, Canagram * carried an interesting article giving further historical facts about this property: On September 13, 1762, an advertisement appeared in the New Yark Mercury which read in part, 'To be sold by Theophelus Ward of Canoe Brook in Essex County, a tract of land and meadow containing 225 acres of good house, an orchard of 100 good apple trees, and a nursery of 300 trees, 100 peach trees and 30 acres in good fence.' Then, as now, real estate featured trees. However, what interests us is that St. Philomena's now nestles among Theophelus' trees and acres. The 'good house' is believed to be the original wing of the historic Force House where the first Mass in Livingston was celebrated about 1891. The old orchard near Livingston Avenue almost certainly includes descendants of those 'one hundred good apple trees.' The St. Philomena's section of Ward's property passed through successive generations of the Force family as well as others, before being acquired as a City Home and Farm by the City of Orange in 1908. Under the supervision of two generations of the Quinn family, the property was a thriving farm as well as a home for Orange's senior citizens. Old Madonna Hall once rang to the beat of the blacksmith's hammer, and picnickers in the grove will be happy to learn that the adjacent low building was once a thriving piggery. The present main school building constructed from native stones on the property, was completed in 1910.
In 1907 Father Thomas McEnery was made Rector of St. Aloysius in Caldwell, and he, together with Fathers Miller, McCann, Dunn, McCormack and McLaughlin from Chatham took turns coming to Livingston once a month to say Mass in the O'Reilly home and other homes in the area. Mass was held in the Livingston Central Public School for some time, and in the Orange Farm Home for sixteen years. The Masonic Lodge on old Route 10 was also used as an assembly place for Mass. Mr. and Mrs. James Quinn, managers of the Orange Home, were remembered in many prayers for their hospitality and kindness during those early years.
OUR LADY OF SORROWS 1927-1929
When World War I held so many nations in its grip many of the young men of Livingston proudly did their duty in uniform. One of the Catholic servicemen from Livingston was the son of Achilles D' Amato, who vowed to erect a chapel as a votive offering for his son's safe return. His prayers were answered and Mr. D'Amato gratefully fulfilled his vow.
In 1925 Achilles D' Amato broke ground on Mc­Clellan Avenue for a chapel which he named "Our Lady of Sorrows". Father and son worked together and the chapel was completed and formally dedicated in 1927, operating as a mission of St. Joseph's Church of East Orange. Father Gaetano Sperazza was assigned as pastor.
​
​
For two years this little chapel fulfilled a need, but on April 8, 1929, the building caught fire and was totally destroyed. All that was left was a small portion of one wall which still remains as evidence of the religious zeal of early Livingston Catholics.
​
​
CATHOLIC MISSION SOCIETY OF LIVINGSTON
As early as 1925 there were more Catholics in Livingston than could be served by one small chapel; too, they were spread over such a wide area that it was still very inconvenient to get to Sunday Mass. So, at the time that Achilles D' Amato began his votive chapel, another small group decided that they would work to build a permanent place of their own in which to worship. This group called themselves the Catholic Mission Society of Livingston and in October, 1925, elected a committee to further their cause
As concrete evidence of their determination, this committee leased a small building known as Newman's Hall in the Northfield section on what was then Roosevelt Avenue, now West Northfield Road.
​
​
​
​
​
​
​
The first Sunday Mass in Newman's Hall was celebrated in the month of October, 1925, with only eleven parishioners. Mass was held thereafter in Newman's Hall every Sunday at 8: 00 a.m., by Father Thomas McEnery of Caldwell. The committee spent many hours of concentrated effort on building up the congregation and was rewarded by an attendance of 160 people at the first Christmas Midnight Mass of that same year.
It must be emphasized that attendance at Mass was still no simple matter of getting into a car and riding a few minutes in comfort to church, with the only problem that of finding a good parking spot. Transportation was still generally by foot, by horse and wagon, or sleigh. In winter the few miles of travel in snow and rain was a chilling experience, with only a wood fire at the end of the trip to provide some degree of warmth and comfort in church.
Often the young people of the Mission would arrive as early as 6:30 on a Sunday morning to cut wood and build a fire so that the chill would be off the building in time for the eight o'clock Mass. Picking up a piece of wood or two on the way to church was not an unusual chore for the youngsters as their share in bringing some comfort to their fellow Catholics.
At Mass, seats originally consisted of long rough benches along the sides of the building, with a few boxes scattered here and there. The altar was fashioned from two orange crates and an ironing board covered with a lace curtain. A folding organ was carried to and from Mass by the organist, Joseph Walter. All in all, it was not a very pretentious house of worship, but for the families of Livingston, it engendered a tremendous feeling of warm comradeship and loving participation in their Catholic faith.
​
THE LITTLE CHURCH ON THE MOUNTAIN
The pioneer spirit that carried these Catholic families through the trials of their early years imbued them with the strong desire for their own church building, and in 1926 they obtained permission to proceed with this ambition. A piece of property 175 feet by 189 feet had been donated by Mr. and Mrs. Michael McGrath of Caldwell in the name of their deceased daughter, Catherine, for this purpose. Located on the corner of Roosevelt Avenue and Collins Terrace, it was truly an ideal spot right at Northfield Center.
On Sunday, February 4, 1927, the Livingston Catholic Mission Society held a meeting in Newman's Hall and made the momentous decision to institute a drive for funds to build a new chapel on this property. They were spurred on by a generous financial donation of $1,090 by Mr. and Mrs. Thomas Dowd of Mt. Pleasant Avenue to help get things started.
​
The total cost of the chapel was estimated at $14,000, a modest amount for such a structure even in those days. This was possible only because so much of the work and material was generously donated.
About a year after the committee was formed, a total of about $6,000 had been raised in various ways, bringing the goal for the Fund Drive Committee down to $8,000. The township was divided into three sections and teams of four men canvassed each section, calling at every home, regardless of faith. Some ecumenical spirit prevailed even then in Livingston, for many Protestants contributed to the establishment of the new Catholic house of worship. The intensive efforts of the Fund Drive Committee were speedily rewarded. On Sunday, May 15, 1927, a formal ground breaking ceremony was held at the site, with Father McEnery officiating. Work continued apace, and a short five months later, on August 21, 1927, about a thousand men, women and children gathered together for the laying of a lime cornerstone donated by John Cannon. Monsignor Joseph Meehan of Jersey City laid the stone and Father McEnery blessed the foundation. St. Vincent's Boys band of Madison played for the joyous occasion
​
​
​
​
A nostalgic view for many parishioners is this picture of the original St. Philomena's Church. Located on the corner of Roosevelt Avenue (now Northfield Road) the church was designed in Spanish mission style and completed in 1927 with a frontage of 30 feet and depth of 65 feet. Of brick and stucco construction with a tile roof, it was placed far back on the property to permit erection of a larger building at the front some time in the future. One main floor contained the church auditorium and appurtenances, with a basement hall for social gatherings. Many, many gifts helped to furnish and decorate the lovely little chapel, which became known locally as the "little Catholic church on the mountain." Father Thomas Preston, Rector of St. Aloysius Church in Newark, presented black walnut pews which had originally graced St. Thomas Church in Newark, erected in 1810, and the second oldest church in the Newark Diocese. One of these pews bore the family name of Archbishop Corrigan. Father Paul Carew of St. John's Church in Orange made a gift of the mahogany hand carved Stations of the Cross which had been made in Milan, Italy in 1858, and used for many years in the Orange church. The altar was a gift from St. Aloysius Church in Caldwell, having been used in their old wooden structure.
​
PATRONESS OF THE MISSION CHURCH
Father McEnery was the acting pastor of the new mission church. He was a devout votary of St. Philomena, frequently urging his congregation to "pray to her for purity of heart and mind which leads to the perfect love of God." It was therefore almost inevitable that the new church would be named for St. Philomena, his patron saint.
The first Mass was said in the new chapel on April 28, 1928. The church soon became a social center for the parish and, even in the early years, parishioners developed many opportunities to enjoy communal activities. It served as a religious and social center until 1954, when the property was sold and the beautiful little church was razed
ST. PHILOMENA'S CHURCH
​
By 1950 the country had made a rapid recovery from the war. Consumer goods became available again, building restrictions had been lifted and veterans had finished their interrupted educations. A building boom was on.
Scores of young families began to move into Livingston and St. Philomena's Parish. For almost ten years it seemed that homes could not be built fast enough. Livingston awoke every morning to the whine of power saws and the thundering roar of heavy equipment building streets, bringing in utilities, and excavating foundations for new homes. Huge trucks monopolized the streets as they brought in more and more building supplies and equipment. Moving vans were everywhere, heralding the arrival of new families.
As the parish grew, St. Philomena's "little church on the mountain" was proving itself to be just that ­little. The 400-or-so Catholic families were crowding it to the extent that several Masses had to be added to the Sunday schedule, with additional Masses held in the church basement. Some parishioners may remember attending Mass on the upper floor of the Livingston Elk's Hall in the early 1950's.
At this time, when they needed the space most, a fire broke out in the church basement and caused extensive damage, which made the need to expand parish facilities even more imperative.
There was a considerable amount of vacant land adjoining the church, but it could not accommodate all of Father McCann's plans for a school, convent, and parish house. Anticipating some growth, the church had purchased the Teed residence at 15 South Livingston Avenue where the A&P store was located) but this was also proving inadequate, and Father McCann had been searching for a larger site to meet expanding needs.
For some time the City of Orange had been reassessing the cost of the use of their Suburban Rest Home, originally their Alms House, which they had owned since 1903. Approximately forty persons were living in the Rest Home at the time and there was some question as to whether funds would be available to assist the chronically ill in municipal institutions, or whether these funds would be limited to patients in private facilities. It was soon reported that, after legal matters pertaining to announcement of the sale of the property were concluded, the property would be sold at public auction on August 7, 1951.
Father Vincent Svirnelis had been interested in the possibilities of this property for some time. The site seemed ideal to Father McCann and Father Vincent. In July, 1951, Father McCann persuaded the Archdiocese of Newark, on behalf of St. Philomena's, to offer the City of Orange $225,000 for the Rest Home and surrounding tract of about 45 acres, including about three acres on which was located the Orange Police Force Pistol Range. Not placing reliance entirely on human effort, Father McCann and Father Vincent deposited several holy medals on the property to evoke Divine Assistance in the negotiations. By the end of that summer their hopes were realized and the property was secured.
Parishioners came to help clear the land and construction was started at once. The Rest Home building was remodeled to house six grades for the parish school. It was rushed to completion, and accepted its first students in September, 1952. Construction was started immediately on a new building which provided four additional classrooms and a large auditorium to be used as a temporary church. It was built in a modified Colonial style designed by Architect Neil Convery. These four classrooms, occupied by the seventh and eighth grades, were divided by a corridor leading to the new church-auditorium.
​
The cornerstone of the church-auditorium was laid on May 26, 1953, by Archbishop Boland in the presence of 900 parishioners. Assisting were Father Mc­Cann, Monsignor James A. Mooney, Archdiocesan
Chancellor, and Monsignor Joseph H. Kelly, pastor of St. Peter's Church, Belleville, and a member of the Archdiocesan Building and Sites Committee. Archbishop Boland administered the sacrament of confirmation to St. Philomena's classes following the dedication.
For about a year after the completion of the church-auditorium, Masses continued to be held in the little church on Northfield Road. In 1954, however, that parish property was sold. Pews, statuary and Stations of the Cross were removed from the church and given to Blessed Sacrament Church in Roseland. The beautiful little church, which members of the parish had loved so well and which held so many memories for them, was razed. Parish activities then centered in the church-auditorium, which served for Masses and all church functions from 1953 until the dedication of the new church in 1972.
​
ST. PHILOMENA'S NEW CHURCH - 1972
How is a church built? Before settling such practical matters as finding a suitable site and the means of financing it, a church starts with a single idea which grows and grows until it becomes dominant in the mind of the one who conceived it. Minute details and massive plans are added to the mental idea until it becomes a complete inspiration. Then the fund-raisers, architects, builders and artisans take over.
The idea for St. Philomena's new church was conceived by Monsignor McCann long before the church building was feasible - as early as 1953 when the Colonial design of the school was adopted. He then envisioned our future church as Colonial American in design. He wanted the exterior to reflect our American heritage and the interior our totally Catholic heritage. This blend of traditional American and traditional Catholic design would convey our identity - American Catholic ..
As examples of designs which are singularly Catholic, the stained glass windows depict the fifteen mysteries of the Rosary. These scenes also represent a history of Church dogma. The Stations of the Cross, carved in wood with artistic realism, are distinctively Catholic.
Architect George Overath, a representative of the firm of J. Gerald Phelan, F.A.I.A., Bridgeport, Conn., and a St. Philomena's parishioner for many years, was chosen with his associate, J. P. Boulanger, to design the new church. Following many conferences with the pastor and diocesan officials, plans were completed by Boulanger, Overath and Associates and submitted to Archbishop Thomas Boland. On his approval the plans were turned over to the Dioceasan Buildings and Sites Committee. This committee, which draws on broad knowledge and experience in the field of parish buildings, reviewed the plans, made required changes and recommendations, and approved them. Contract bids were invited, subsequently reviewed by the Buildings and Sites Committee, and awarded to the lowest bidders.
Successful bidders were the DeVenezia Construction Company, general contractors; Dynamic Electric Company, electrical work; Contello Plumbing Company, heating, ventilation and air conditioning; John Giblin, plumbing; Victor Zucchi and Son, interior designs; Hiemer and Company, stained glass; Staedelle's of Middlesex, organ; Schulmerich, Inc, and Hannon's, carpeting.
THE FIRST MASS
Over a thousand parishioners gathered in the new church for the first Mass held December 24 at 5:00 p.m. - another thousand attended the Midnight Mass celebrating the first Christmas in the new church.
For most people who attended, the first glimpse of the church was like the unveiling of a new piece of artwork. Elegant in its simplicity, breathtaking in its spaciousness and richness of color, the church is a true testament to the majesty of God. "Alleleuia, Alleleuia" must have been the spontaneous prayer of many who viewed the church for the first time.
The first Mass was celebrated by Monsignor William McCann, who gave the apostolic blessing to the church just before Mass began, in lieu of a formal blessing by the archbishop. One can only guess at the measure of happiness which the Monsignor felt at this first Mass.
Familiar carols assumed new meaning - "Joy to the world, the Lord has come!" Somehow a new strength and direction was added to "Come, All Ye Faithful." As they sang, the congregation seemed to realize a new spirit of community as they joined in this song, hesitantly at first, then building up to a triumphant crescendo. When the parishioners sang "Faith of our fathers, living still" as the Mass ended, many must have remembered the first Livingston Catholics who gathered together in Christmases past, whose faith and perseverance year by year, little by little, culminated in the magnificance of spirit felt by the parishioners who gathered together in the new church on Christmas, 1972
ST. PHILOMENA'S SCHOOL (Aquinas Academy)
DEDICATION OF ST. PHILOMENA'S SCHOOL 1953
Since the days of the Provincial Councils of Baltimore in the mid-1800's the question of the Catholic school has been discussed from every conceivable angle. During the 1829 meeting of the Catholic bishops of the United States a joint letter was prepared and sent to American Catholics urging them to consider building Catholic schools. At that time the bishops were concerned that the Catholic children in this great young land were not being given the opportunity to learn about their faith. They feared that the secularism which prevailed eventually would lead to the danger of loss of the faith.
An edict was proclaimed during the Third Plenary Council that a parochial school was to be erected near each church and was to be maintained in perpetuum. Therefore, when Father McCann was planning the church complex, he was advised by Bishop James McNulty, a longtime friend, that he was obliged to build the school before anything else for the education of present and future generations of young Catholics. Together they eagerly planned each building on the property. And so, many years after the 1892 bishops' meeting, and following established custom to further Catholic education, St. Philomena's School opened its doors in 1952 to its first pupils.
What was the new school all about? Pope Pius XI, in his encyclical letter "The Christian Education of Youth" (Divine Illius Magestri) aptly describes the basis of traditional Christian education: "The proper and immediate end of Christian education is to cooperate with divine grace in forming the true and perfect Christian, that is, to form Christ Himself in those regenerated in Baptism." St. Philomena's basic objectives are the same in 1972 as they were in 1952: to develop the morally intelligent person.
The setting of the original parish school was in the old stone building which was formerly the Orange Rest Home. After Father McCann successfully arranged to purchase the property, he was eager ·to begin the task of educating the young people in his parish family. In cooperation with the Sisters of St. Dominic of Caldwell, he arranged for six grades of the school to be opened to the parish children in the remodeled rest home. There were 274 children enrolled in the initial 1952 semester. Sister Dorette was appointed the first principal, serving from 1952 to 1956.
The pioneer spirit still prevailed when the new sisters arrived and took up in the old Teed house on the site of what was the A & P store. This residency was short-lived, however, since plans were soon made to sell the Teed property in order to accrue monies for the new school. The Sisters then occupied two of the classrooms in the new wing of the school as their home. Nevertheless, the days were happy for the sisters in their makeshift quarters as they cooked, studied, slept and prayed in their classroom abode. What a treat it was when Father Vincent Svirnelis bought them a barbecue grill and they would picnic on the lawn on balmy evenings. As night began to fall they would recite their evening office, chanting softly in praise,
"The Lord swore to David a firm promise from which He will not withdraw, Your own offspring I will sit upon My throne If your sons keep My covenant and the decrees which I shall teach them. Their sons, too, forever shall sit upon My throne. "
How thankful they were to do what the Lord had ordained.
In August of 1952, work was begun on an addition to St. Philomena's School. The new wing included four classrooms, lavatories and auxiliary rooms. At the rear of the wing an auditorium was designed to serve as a meeting hall and temporary church. The structure was designed by architect Neil Convery and was built by Evans-Gill Company of East Orange. This new wing housed the seventh and eighth grades.
​
​
​
​
The seven Dominican sisters did not have to "rough it" for too long because a convent was soon added to the parish compound. The building, a $100,000 project, included twelve bedrooms, a housekeeper's room, dining room, community room, three visiting rooms, cloak room, kitchen, music room, sacristy and chapel. The home was completed in 1954. At last, Sister Dorette's dream of a rocking chair in the room of every Sister came true! How luxurious this seemed to this pious pioneer sister who supervised the establishment of the school.
That year, 1954, was a banner year for St. Philomena's. One month after the new convent was dedicated, fourteen members of the eighth grade class received their diplomas from a very happy, proud pastor, thus commemorating the first graduation class from St. Philomena's School.
Once again, in 1955, the booming Catholic parish required more classroom space, which led to an addition to the old Madonna Hall. Despite the construction sounds and the bustling activity of progress, there were many happy moments to be remembered. How delighted the children would be when Father Vincent Svirnelis would pop his head in and out of their classrooms and ask his proverbial question, "Does anyone have a fried bologna sandwich for lunch? You know it's my favorite." He was well loved. His kind words of guidance and encouragement were a continuing inspiration to the youngsters. On the day of his funeral the children stood in silence as a living tribute as his cortege passed. A human chain of young people lined the driveway and South Livingston Avenue to Memorial Field. With music swelling through the silence, quiet prayers were murmured for their departed friend by his beloved children.
​
​
​
​
​
​
​
​
​
​
​
​
​
​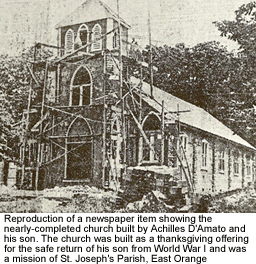 A Glimpse of Our Parish History
Saint Philomena Parish has a long and beautiful history. Many generations of Catholics have found holiness here, and the joy and peace that are its fruit.
Father Thomas McEnery is considered the "Founder" of our parish, but the first Pastor was Father Cornelius McInerney, who served from 1935-1946. The video here is about two minutes in length. We estimate that it was created around the year 1940, give or take a few years either way. It is a grainy video showing what seems to be Adoration of the Blessed Sacrament and a May Crowning in the original Saint Philomena Church, which was on Northfield Avenue a little west of South Livingston Avenue.
The video then cuts to outside the Church where Father Cornelius McInerney couldn't resist puffing on a cigarette while surrounded by smiling parishioners, all of whom are our ancestors in the Saint Philomena Family! It is a brief video but happy. We have a spiritual connection to these people! Their presence and faith built this parish, just as yours does today.
Can anyone identify any of these founding members of our Parish? There are several smiling altar boys, some young ladies on the Church steps, and a number of men exiting the Church. It is possible that some of our veteran parishioners may recognize and be able to identify some of these people. We should say a prayer for them all, and try to be as happy as they appear to be!
Enjoy this short experience of the history of our parish!
~ Msgr. Fuhrman